Autobooks is an online accounting solution that helps our small business customers with electronic invoicing, online payment acceptance, invoice tracking, estimates and small business accounting.
Autobooks is designed specifically for small business owners that don't have time for complicated systems.
Manage Cash Flow, Payment Acceptance, Digital Invoices and More
Maintaining healthy cash flow is critical to the success of a small business. The Autobooks dashboard keeps you up to date on incoming, coming due and past due customer payment, send invoices, and receive payments.

Accept card payments or donations, anytime. Online, in-app, or over the phone, with funds going directly to your checking account.
How to Enroll in Autobooks

If you have a First National Bank & Trust online or mobile account, click on the icons to start the enrollment process by either selecting Send an Invoice or Accept Payments Now.


You will then be guided to this screen to begin enrollment.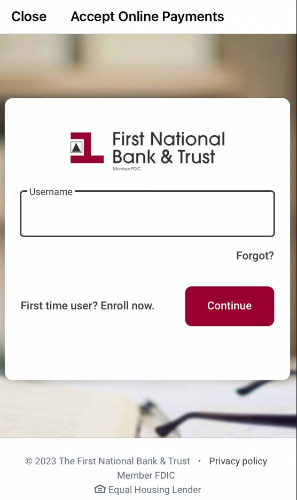 Questions?  We're Here to Help
or call us at (906) 774-2200 or toll-free at 877-803-1814.