The First National Bank & Trust Veterans Outreach Committee is comprised of armed service veteran employees and additional employee volunteer members.  The Committee's mission is to oversee and expand the Bank's efforts in supporting and creating awareness for local veterans organizations and programs.
Committee veteran members: Matt Donovan, Mollie Welcenbach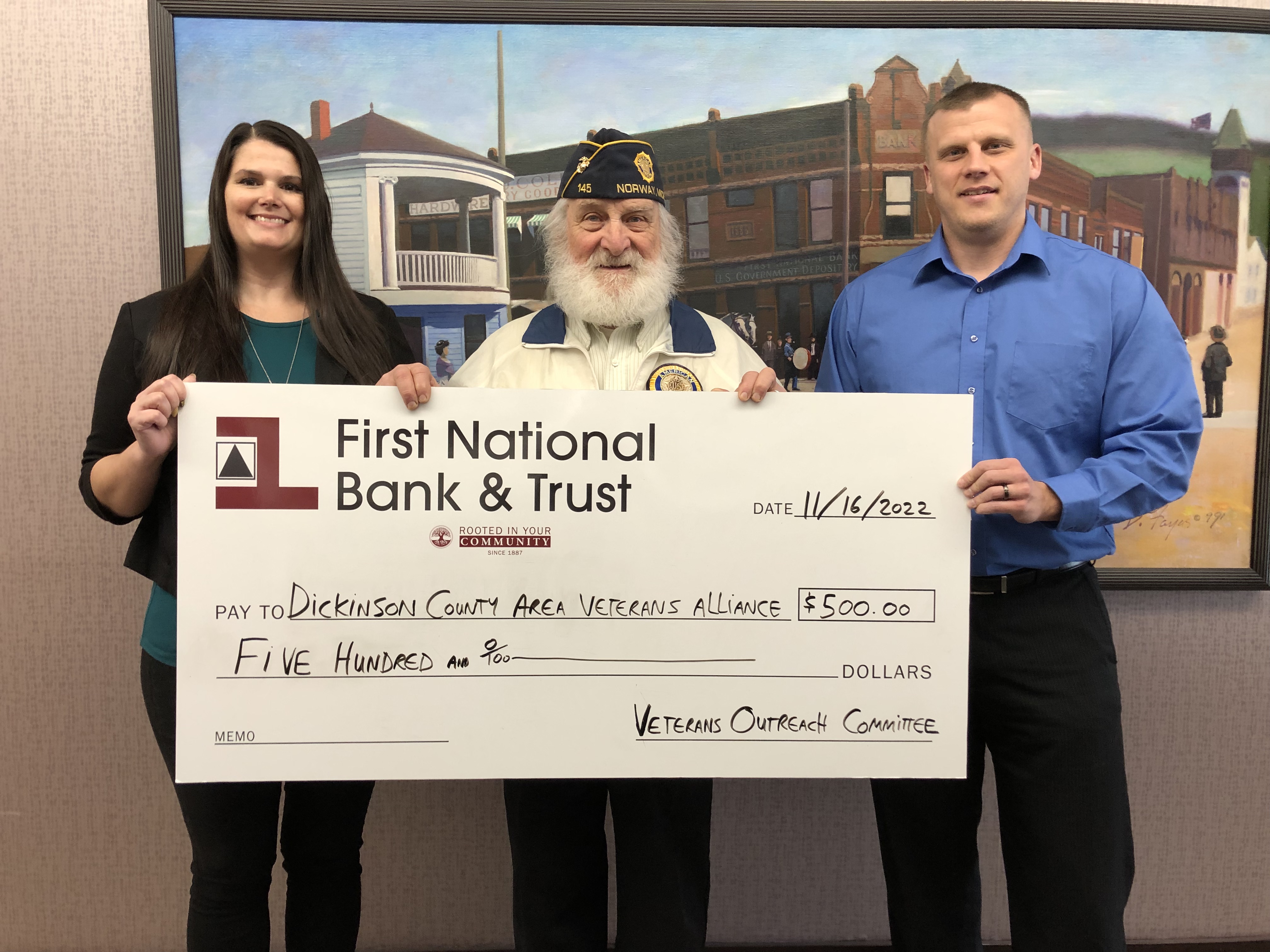 Dickinson County:
Dickinson County Veterans Alliance: 906.774.2820
(reached via Dickinson County Office of Veterans Affairs)

Menominee County:
Veterans of Foreign Wars Post 1887: 906.863.9296
Iron County:

American Legion - Alfred Branchini Post No 17- Iron River:
906.265.2013
The Veterans Outreach Committee In Our Community
2022 Activities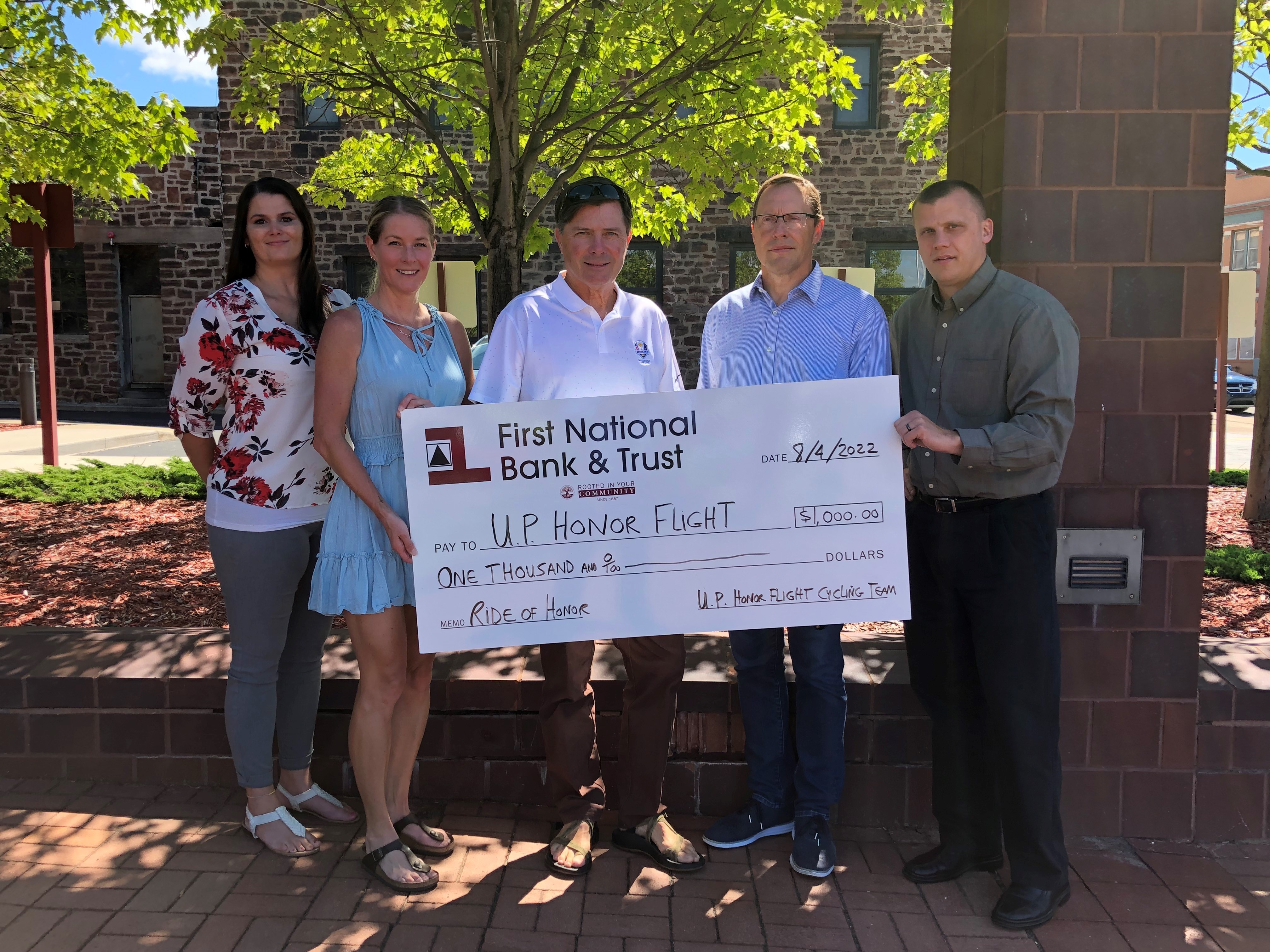 We were proud to support the UP Honor Flight Cycling Team "Ride of Honor" on their 200 mile trek by bicycle from the U.P. Veterans War Memorial at Pine Mountain to the American Legion Park in St. Ignace to raise funds for the Upper Peninsula Honor Flight program.
(Pictured L-R): First National Bank & Trust Veterans Outreach Committee Member Mollie Welcenbach; UP Honor Flight Cycling Team Members Melissa Wentarmini, Scott Lewellyn, John Jamar; First National Bank & Trust Veterans Outreach Committee Chair Matt Donovan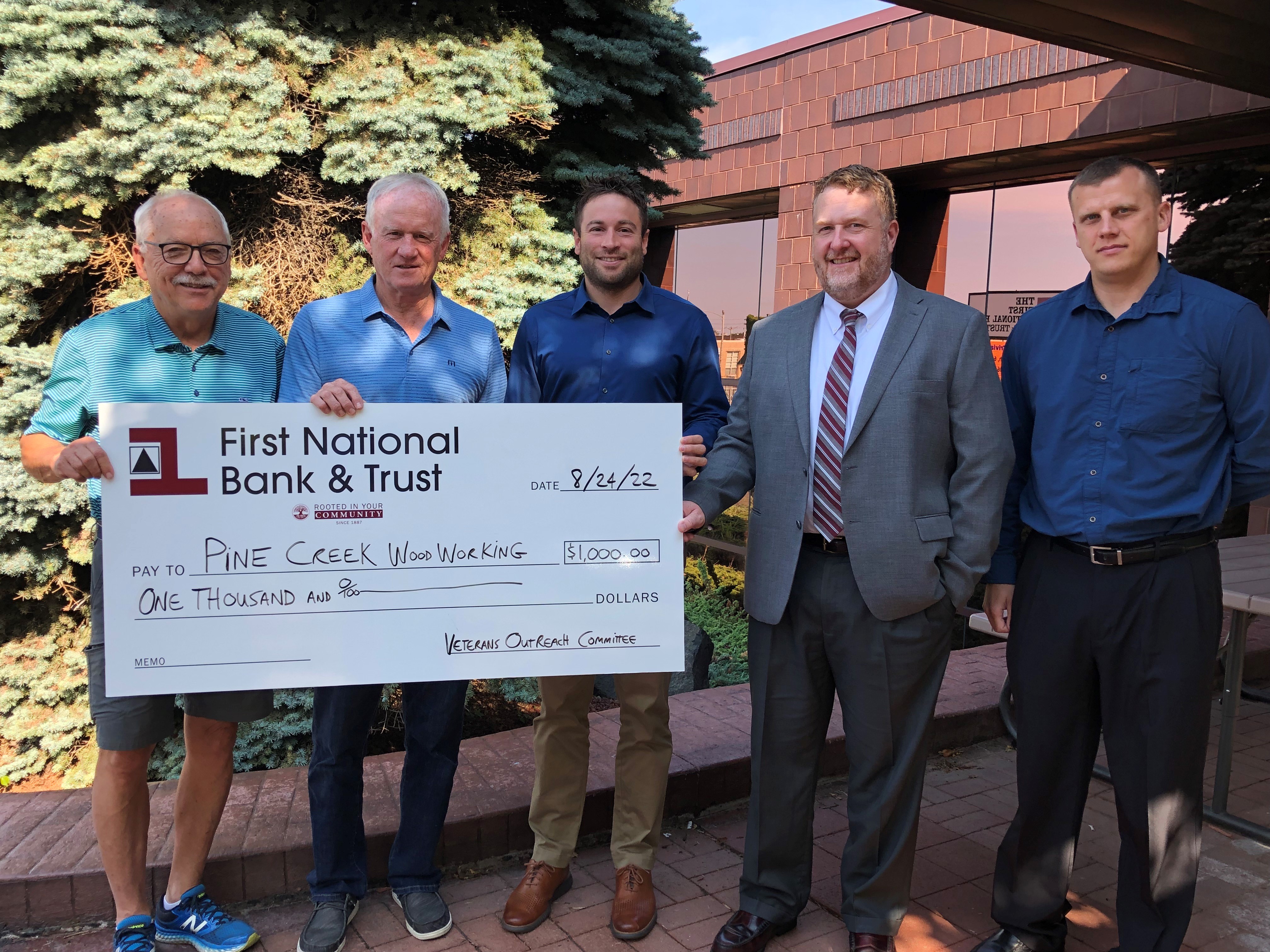 Pine Creek Woodworking is a new non-profit facility offering access to woodworking equipment at no cost to area seniors, veterans, and individuals interested in the woodworking trade. The Veterans Outreach Committee supported this project with a contribution to help purchase needed equipment.
(Pictured L-R): Pine Creek Woodworking Board Members Steve Pontbriand, John Fortier;

 

First National Bank & Trust Business Bankers Jake Hogberg, Dale Cook; First National Bank & Trust Veterans Outreach Committee Chair Matt Donovan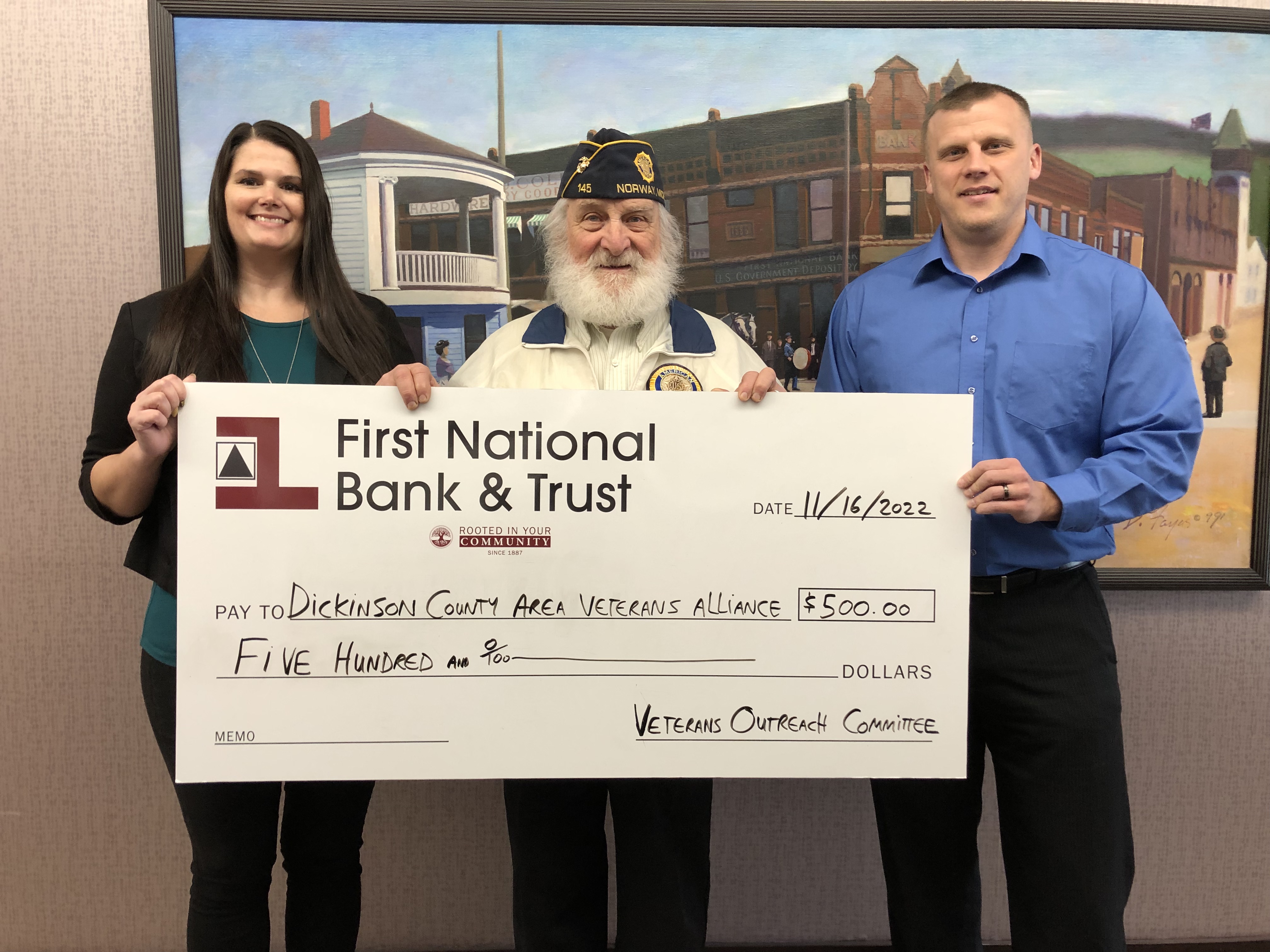 As part of National Veterans and Military Family Appreciation Month, Dennis Lynch of the Dickinson County Area Veterans Alliance joined our employee veterans Mollie Welcenbach and Matt Donovan to receive a donation on behalf of the Veterans Outreach Committee.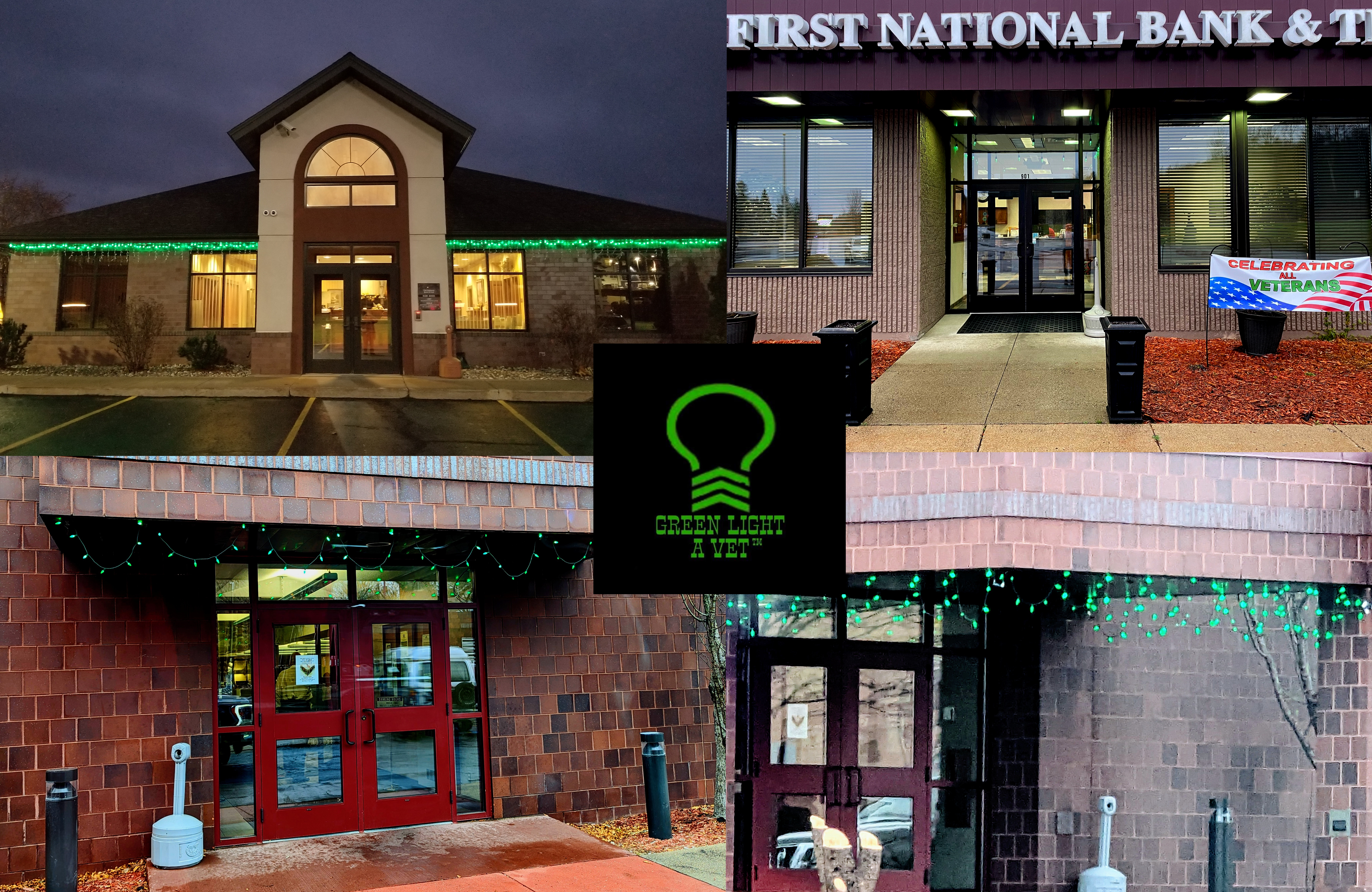 During the month of November, First National Bank & Trust

branches added green lights in support of Green Light A Vet, a campaign to establish visible national support by shining a green light for America's veterans.
Veteran of the Year Applications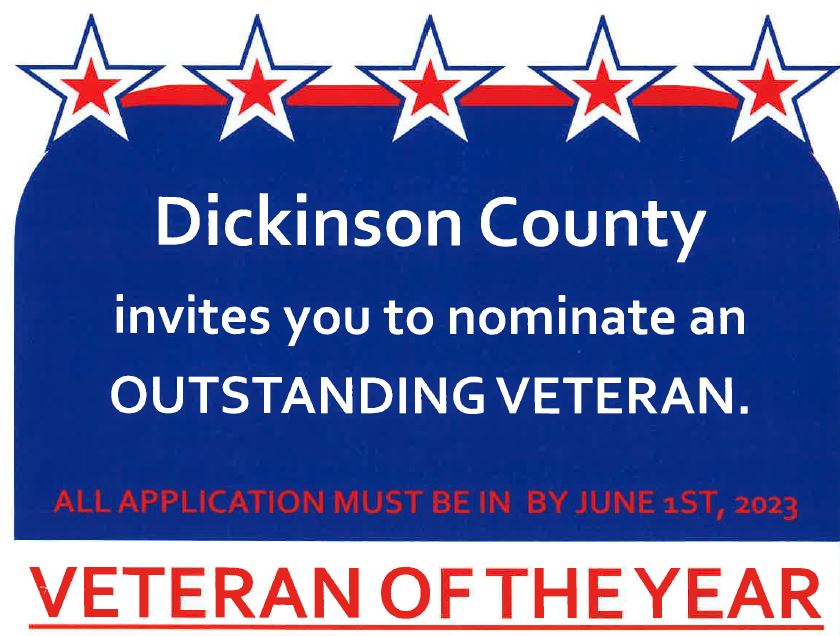 Dickinson County invites you to nominate an outstanding veteran. Applications are due by June 1, 2023. The veteran selected will be recognized at the Veterans Appreciation Picnic on July 29th. Applications are available at Iron Mountain-Kingsford First National Bank & Trust locations or download the PDF here.
Gerald's Law:
The family of
veteran Gerald Elliott was denied burial benefits when he chose to pass at home rather than in a VA facility. Dickinson County Veterans Service Director Denise Formolo brought this to the attention of Representative Jack Bergman,
who's fighting for Gerald's Law. Learn more from Denise:
RCTAA PROGRAM:
Local armed service veterans qualify for many benefits and the Reserve Component Transition Assistance Advisor program can help you navigate the process. For more details, contact Pam Basal at
Pbasal-c@gapsi.com
or call 202.987.3934.
Saturday, July 29
Veterans Appreciation Picnic-  Hosted by The Dickinson County Office of Veteran's Affairs
Lake Antoine Park, Iron Mountain
First National Bank & Trust's downtown Iron Mountain location at 233 S. Stephenson Ave. offers a receptacle in the front vestibule to collect flags that are no longer able to be displayed due to age and wear. The collected flags will be  disposed by the American Legion with the proper Flag Retirement and Disposal Ceremony.